This is a little out of order but that's because I am still using a 35mm camera and have not gone digital yet. I need to wait for the billion photos to be developed.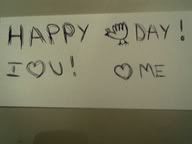 I drew this on hotel stationary in my room on Thanksgiving and emailed it from my phone to my hubby. I figured if he couldn't be with me I could at least let him know that I was thinking about him. I fashioned my turkey after the ones you used to make as a kid by tracing your hand and adding feet and the cockscomb. He called the day after I returned home and he mentioned that he got this...he thought it was cute and that he wants a new phone when he gets back so he can do goofy stuff like this.

I didn't take a photo before I sent it, but I also sent him a special present for Thanksgiving.....No they aren't nude photos but it was a tin with little leaves cut out in fall colours. I wrote out a bunch of reasons for why I am thankful for him. I also included a few from the dog for why she is thankful for him. It was an idea I borrowed from someone else and I think it went over well. He wants to try and do something like that back but he doesn't know how yet....he figured I didn't want a box of rocks since that's the most abundant supply of things other than sand.

....Saldy I happen to agree, no rocks but the sentiment is very nice.