I think I am in love with
Bruce Willis
.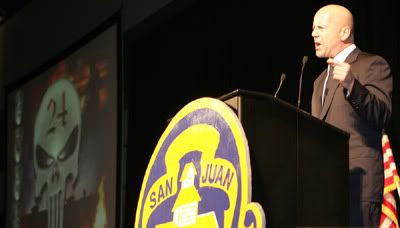 Photo taken, owned and copyrighted by Michael Yon at
Michael Yon
Not because he's an older guy who is one heck of a hottie, but for his support of the troops. Go read Michael Yon's dispatch about Bruce attending the Punisher's ball. As well as Michael'ss two interviews on Rita Cosby that had Mr. Willis included by telephone.
Bruce rocks...and yes he is a babe! (LOL) In the imortal words of Yakko - HELLO NURSE!
UPDATE
- I went to IMDb to see just how old Bruce was and saw he was born in Idar-Oberstein. That is a stone's throw from where we are currently living. How sweet is that?