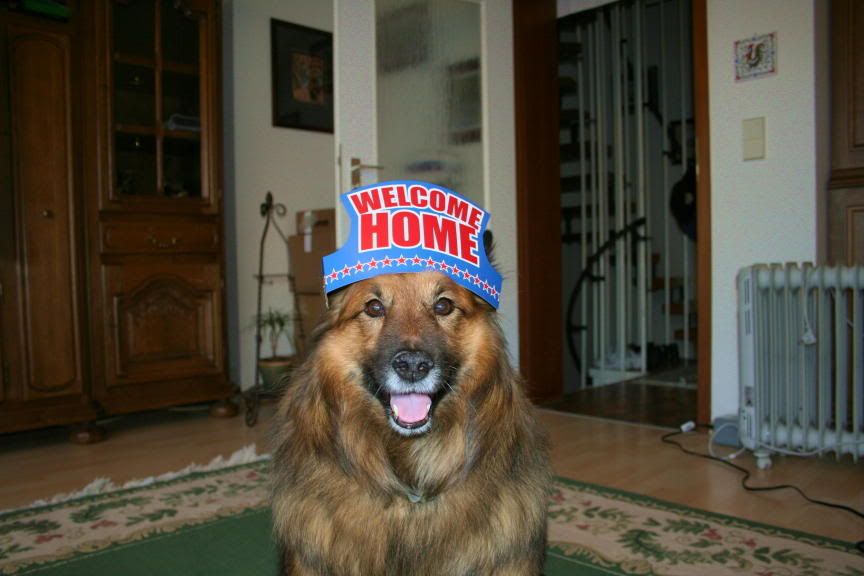 Its been just about 5 weeks now since the DH came home from Afghanistan. We've gotten back into a routine and things go fairly well. We've started the gear up for PCSing back to the states including sending the lil' miss (above) to live with the grandparents until we come and get her this summer.
Today was the first day back to work for him and we are fighting over the bathroom just like we always have. You can't turn on the water or flush the toilet without scalding or freezing the person in the shower. It just doesn't seem like I have had 5 weeks of snuggling up next to the man at night, pestering him to put his damn shoes away and to clean up his TA 50 gear so we can actually walk into the basement craft/storage room.
I am really starting to get a little impatient about wanting to continue gearing up for our PCS. We have nothing set up other than billeting here (Blasted World Cup). We need to get a date for our household goods pick up, a date for the car to be shipped, billeting at the new duty station, a kennel reservation for the dog, a rental car for our time in CA visiting family, Tickets to fly, plan our last three trips in Europe (London, Brussels, Venice/Vienna), and looking into moving insurance if USAA will cover us. I also need to get my overseas driver's license renewed, get an international lincense, see if I really need to renew my No Fee passport and get a new ID card.
The list keeps growing and spring fever is hitting me hard at work. Oh and I was really irritated that the pharmacy switched prenatal vitamins on me. I asked why and the little Pharmacy Tech who is pregnant says with a sigh, "Yeah I know, it happens every time, it's what ever they get in stock." I liked the ones I had because they didn't upset my stomach like I have read many of them can, so I hope the new ones go down as well as my current ones.
Also, I am still miffed at yesterday's road rage...For another post I MUST get some work done today.